THE FURTHEST FROM THE FLOOR
NOVEMBER 2014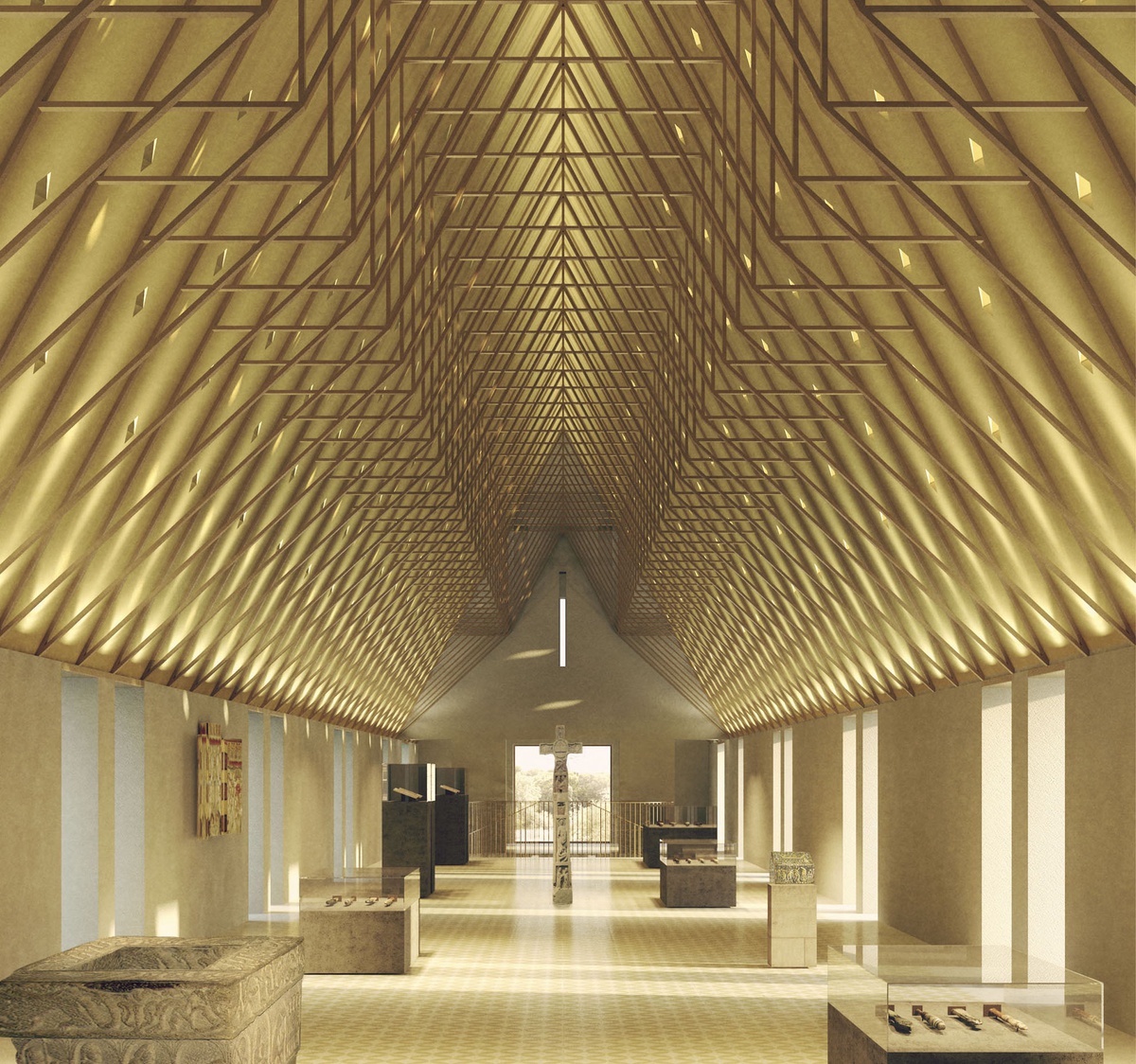 Imagine a room without a roof, where the sky can be seen and the seasons read. This room holds the capacity to frame dazzling colour and scaleless formation, silent motion and subtle evolution.
What if a roof challenged these things, and set out to generate a drama quite of its own?
Often we witness the world at eye-level alone. Much of our urban landscape positively encourages us to do so. Yet it is sad if, on the occasion we raise our eyes to the ceiling, we are not enamoured with what we find. It is often height that offers the best opportunity for expression. With height comes volume and the potential to present the greatest manifestation of depth and structure.
Our practice explores the roof and the complexity of a soffit as an ongoing theme. The notion of the exposed rafters in a barn has influenced the design of the soffit in our gallery at Auckland Castle. We are developing an array of rafters that create density yet delicacy in their mass when tightly multiplied. Though the roof is low, its lowest point occurs just higher than your fingertips, creating a definitive datum between the world of rafters and the world of exhibitions. This effect is further enhanced by the muted nature of the walls to increase the feeling of overhead awareness.
As contrast to this, your gaze is directed by the vertical piers that surround you as you move through Bishop Edward King Chapel in Oxford. Slowly they rise, higher and higher, until they meet the ceiling, at which point orientation is adjusted and the piers fuse with the weave of rafters. It is pleasurable to witness something simple become something complicated. Height offers the opportunity for elements in the space to take you on a journey. They "pick you up" at eye-level and carry you up to the roof, where often the brightest or darkest environments exist.
The requirement to defend from rain leaves the roof little choice but to protect, as efficiently and simply as possible, granting the interior more freedom for expression. And why not, when you consider where most building users will stand? However, as our towns and cities become denser, the roof, as seen from its surroundings, becomes an increasingly important issue to address.
The two examples I have given construct varying degrees of interest, leading me to suggest that it is possible for a roof to respond to that drama in the sky with a drama of its very own.
Katherine received a BSc Degree from the Bartlett in 2008. In 2007, she was awarded The Henry Herbert Bartlett Travel Scholarship and the UCL Expeditions & Travel Grant to conduct a construction project in Kampala. She joined Niall McLaughlin Architects in 2012 and has worked on London Academy of Music and Dramatic Art, St Cross College in Oxford, the T1 Argent Building in London and Jesus College in Cambridge.