THE ELEMENT OF SURPRISE
NOVEMBER 2014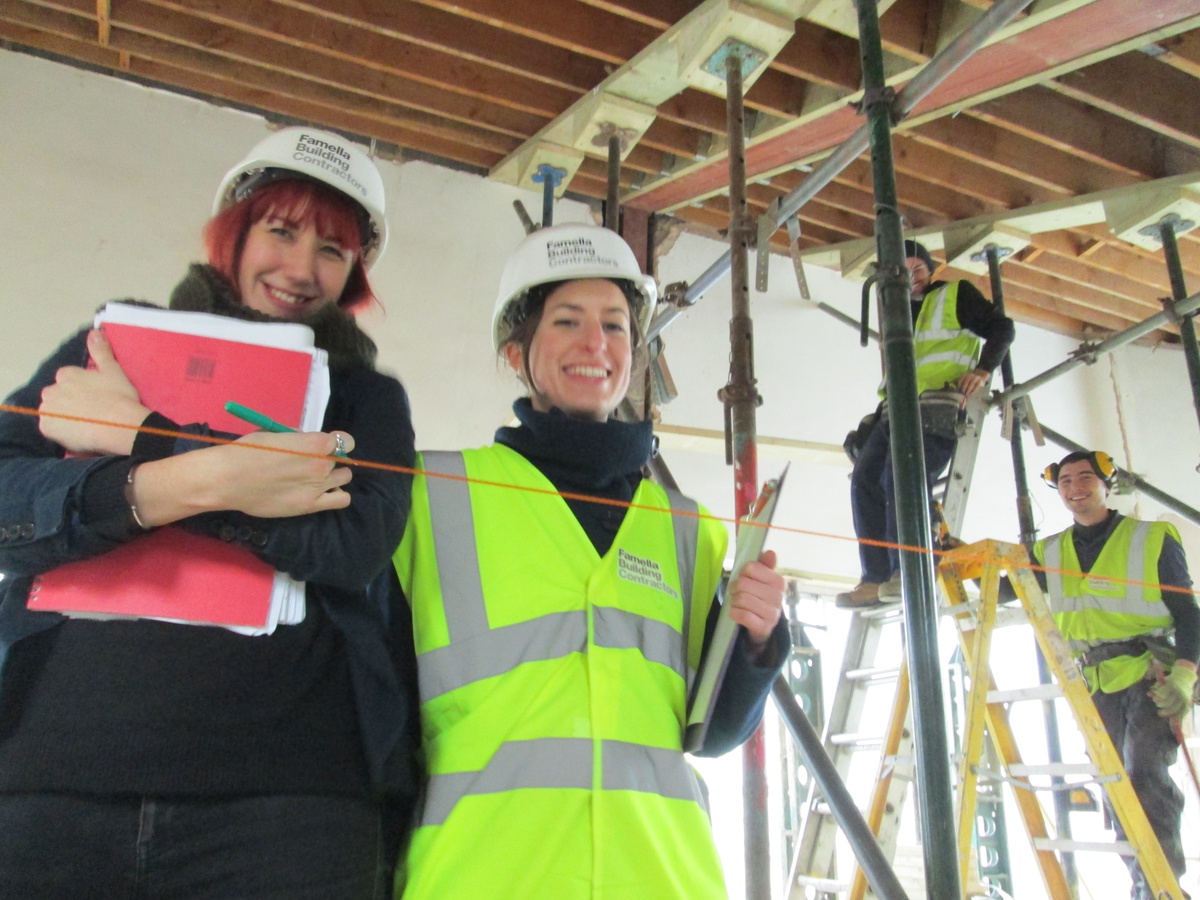 Sarah-Jane McGee, Project Architect (Right) and and Sophia Tibbo, Structural Engineer (Left) on site, 2014
I recently explained to a relative that the most exciting part of my job is the element of surprise. I compared the world of desktops and emails and repetitive strain injury to that thrill I get each Wednesday when arriving on site to inspect progress. It is the uplifting discovery of the unexpected that is most satisfying to me.
The origin of the word 'surprise' ranges in meaning from 'overcome with emotion', 'strike of astonishment' or 'a taking unawares'. This is also common to the early process of design during which the building takes shape inside your mind as a sequence of spaces, moments and details. As architects, our job for many months and even years on a single project is to translate this purely imaginary set of ideas into a two-dimensional rule-book for eventual construction. The resulting documentation is scientific, precise, and impersonal. It is accompanied by reams of contracts, costs, schedules and sums. It is in short, quite dull to the naked eye.
This document then comes into contact with a wide range of people; contract managers, site agents, sub-contractors, labourers and tradesmen. They have a unique ability to bring this pile of paper to life. Over the days and months the team forms the structure like bees in a hive. One week there is a hole in the ground, soon after the steel is measured and delivered, the floors and stairs go in, the roof lights are installed, the doors are hung and the whole thing is 'buttoned up'. Suddenly what was abstract becomes real, what were lines become tangible surfaces, shocking in their dimension and materiality.
Construction is simply connecting one thing to another thing, layering over and over and over. The physical actions are drilling, digging, hammering, stacking, lifting, fixing, pouring, spreading, sticking, brushing, nailing. It is a human activity, with each person lending his or her very specific skills to create the whole.
To me it seems surprising and almost contradictory that something as animated, chaotic and personal as a construction site can become a silent space of light falling on blank walls. The story is hidden behind white layers of plasterboard, a secret that will only be uncovered in the next round of renovation or demolition.
After all the humming and drilling the building gets built. The bees move on; an enchantingly empty hive remains. And we begin to imagine again.
Sarah-Jane McGee graduated with a first class honors degree from University College Dublin in 2008. Sarah-Jane won the Irish Architectural Graduates Association Gold Medal in 2008 and her thesis project was highly commended in the OPUS Construction Awards in 2008. Having worked in Ireland for O'Donnell and Tuomey Architects and in Italy for Mario Cucinella Architects, she joined Niall McLaughlin Architects in 2011. Since joining the practice she has worked as Project Architect on a recently completed private house in Hampstead, London as well as working on St. Cross College, St. Teresa's Carmelite prayer room in Dublin, a fishing hut in Hampshire and the ROQ Masterplan in Oxford.